Now Trading: A World-Class Operator at the Forefront of Gaming – Stockhouse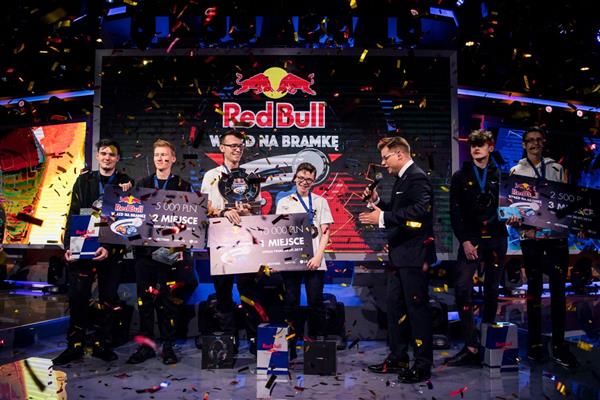 (Image via ESE Entertainment Inc.)



One of the hottest consumer trends out there is the evolving video game industry and leading the charge is esports – competitive gaming where pros play for serious winnings – it is a market that has been growing around 25% year-over-year and poised to grow to $3billion (USD) by 2022, according to Goldman Sachs (Source: Goldman Sachs Global Investment Research).
According to research firm Technavio:
"Although the COVID-19 pandemic continues to transform the growth of various industries, the immediate impact of the outbreak is varied. While a few industries will register a drop in demand, numerous others will continue to remain unscathed and show promising growth opportunities."
One Company that already owns a pro esports franchise, media rights, and more has quickly figured out that directly monetizing gaming and esports is a massive market waiting to be tapped … and its shares just debuted on the TSX Venture Exchange.
An opportunity emerges:
While the esports market in the UK and Europe abroad is immense, there has been no single company in the playing field to bring what is happening there to the rest of the world … until now.
There are many fragmented channels out there, but none had translated into revenue streams the way that major league professional sports have. Unlike traditional sports leagues, the lack of standardization has meant it difficult for teams to bargain for their rights and there is no real permanent physical infrastructure for sporting events, despite the fact that esports events have been known to fill massive stadiums. It is also quite difficult to manage broadcasting and advertising channels.
This is where ESE Entertainment Inc. (TSX-V: ESE) comes in to play. This diversified European-based entertainment and technology Company is focused on bridging the audiences of Europe, North America, and Asia, particularly where media rights relating to esports, physical and digital content creation and distribution of esports related content is concerned.
Already generating revenue and rapidly growing, this Company is in a key emerging position as a global esports platform with a strong first mover advantage – Central and Eastern Europe are markets in this space that are prime candidates for consolidation.
ESE is a smart choice for investors looking to get into gaming or esports, as the Company maintains existing relationships with brand leaders across numerous industry facets. Through its diversified business model, the ESE growth strategy is scalable through media rights, brand ownership, sponsorship, and advertising.
There is also a solid M&A pipeline in this exceptional market opportunity. Gaming is a surging global megatrend with esports leading the way, especially in Europe and Asia, where ESE has locked its focus to access large target markets. There is a strong leadership team at the helm of ESE, world-class operators with a 15+ year track record and experience with industry heavy hitters such as Electronic Arts (NASDAQ: EA), (Take-Two Interactive (NASDAQ: TTWO), Flutter Entertainment (LON: FLTR) and others.
As a business operation, ESE has secured valuable resources such as:
Physical venues and infrastructure
Broadcasting
Technologies
Media content
Distribution partners
Growing esport team franchise
ESE also has the means to execute broadcasting and physical infrastructure, as well as existing global distribution for esports-related content, along with tier-1 advertising and sponsorship partners, with a growing esport team franchise.
Let's take a deeper look into the Company's assets and its advantage as a play to bring international sports expertise into a burgeoning esports empire ….
Esports franchise: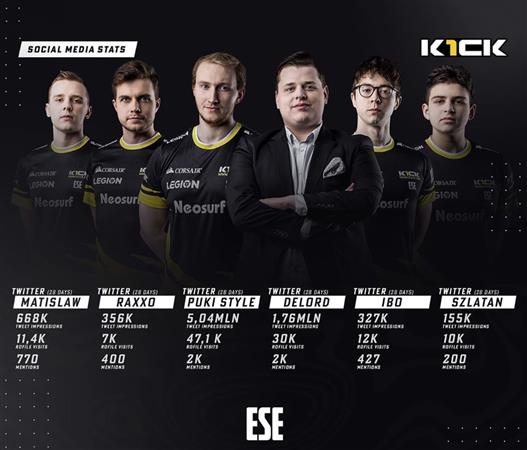 (Image via ESE Entertainment Inc.)
ESE has multiple professional esports teams under its franchise in top games and a wholly owned esports league.
Chief of which is its licensed "League of Legends" team, held under the K1CK Esports brand, it is one of the strongest rosters in Europe. This team is currently broadcast on a National TV channel in Europe, for a tournament called Ultraliga, in official cooperation with Riot Games (parent company is Tencent, HKG: 0700). The broadcast is on Polish nationwide TV and the internet in collaboration with media conglomerate Polsat. In 2019, Ultraliga had over 24 million viewers tune into its esports channel.
ESE's "FIFA 2020" team, also plays under the K1CK Esports brand. The FIFA team provides exposure to one of the top sports games in the world. The FIFA 2020 team has accomplished multiple key victories and is continuing to expand across the globe.
Thirdly, is ESE's "Rocket League" team is one the strongest in Central and Eastern Europe, with accomplishments such as the ESL Benelux Champions, three-time Redbull Champions in 2v2, and others. Central and Eastern Europe are also home to ESE Entertainment's Rocket League competition, the largest in the region, it includes more than 25 teams from four countries who just competed in the first season in 2019 / 2020.
Through the popularity of Rocket League, ESE launched Rocketmania, an original project of ESE Europe ongoing within four Eastern-European countries with an expanding cash prize pool. More than 80 teams competed in Rocketmania's qualification tournaments, which saw over 240 people competing through all the brackets.
You can meet the members of these world-class teams here and find out more about their games and venues.
Gaming and Esports Infrastructure: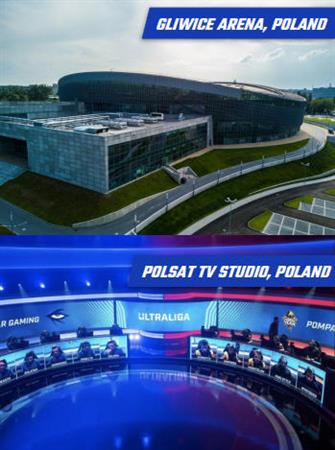 What is a sport without an audience, a roaring crowd of support, a throng of people to spend money on merchandise?
ESE has key partnerships with licensing for TV in markets in Europe, to push these global brands and further extend its reach.
The Company has relationships with infrastructure such as the €100m Smart Stadium, Gliwice Arena, which is a state of the art facility located in Poland, bordering Czech Republic and Germany.
In addition, ESE has built out a model for digital events. In the times of social distancing, ESE's expertise in this area is a strong growth prospect.
The Company's Director of European Operations, Jędrzej Stęszewski, was an event director of the 2019 UCI Track Cycling World Championships and numerous other events hosted in large-scale European venues, including collaborations with: FIFA, Premier League Soccer, IIHF, and others. Now ESE works to tighten its infrastructure as it continues to secure key esports agreements with leading European stadiums.
Partnerships: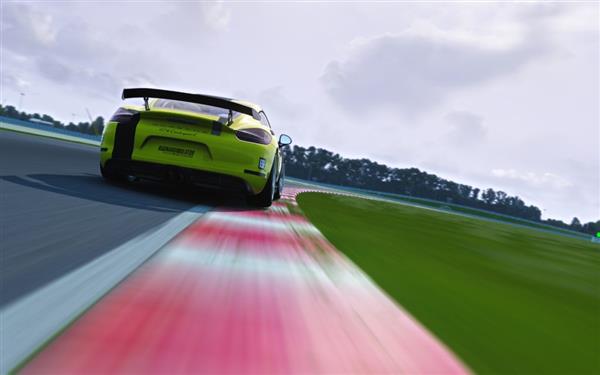 (Image via ESE Entertainment Inc.)
With large multinational companies focused on eCommerce, media, digital events , and igaming, ESE has established numerous key partnerships across several facets of the market. It is building out partnerships and revenue opportunities in this space.
Advertising and sponsorships: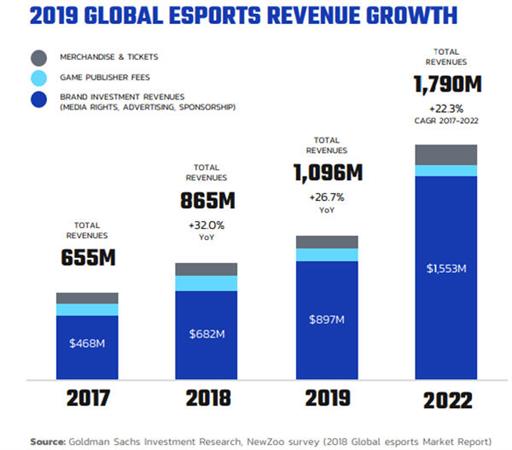 (Image via ESE Entertainment Inc.)
Sponsorships & Advertising is one of ESE Entertainment's core business lines and the Company utilizes key relationships and past sponsorships with Tier-1 companies. Historical partnerships the Company has had include household names such as: Redbull, PKN Orlen (WSE: PKN), LG Electronics, and more.
While it is a challenge for the esports industry to manage global broadcasting and advertising channels, ESE's business model consists of marketing dollars spent by brands directly on media, teams, stadium, league, players, and more.
Leadership team:
The Company's CEO, Konrad Wasiela, a former professional football player in the Canadian Football League with the BC Lions, Saskatchewan Roughriders, and Montreal Alouettes, who founded ESE Entertainment in 2019.
His business experience runs deep, as he was also the founder of a global real estate holdings and private equity company and the former Director of BD for a global language translation and localization provider for EA Sports, Take 2 Interactive, Flutter Entertainment and others.
We also talked about the Company's Director EU Operations, Jędrzej Stęszewski, who has 20 years of experience in sports, with three years in esports. The founder of the Polish League of American Football, he served as its CEO before joining ESE Entertainment full-time.
There are a number of proven operators of global esports events behind the Company:

Michał Mango – ESE's Director of Teams, who has 12 years in sport marketing strategies, 10 years in esports. He was the Co-Founder of the first sociological study on esports and gaming in Poland and was responsible for SEAL esports, aCS:GO team that was in the CS:GO world rankings.
Marcin Sieczkowski – One of the Company's top minds behind business development, he has a decade's worth of experience in esports and founded the first professional esports team in Poland. He was also the sole Polish representative in the G7 Teams Federation and also achieved world titles in the game CS:GO with PGS Gaming and a European Championship in the game FIFA. He also managed the Polish National team in the game FIFA.
Investment summary:
With a diversified business model, ESE Entertainment Inc. is scalable through four main business lines and a strong merger and acquisition pipeline, as well as its growing revenue generation. Its global esports platform offers a first mover advantage as Europe as certain countries and regions are still wide open for consolidation with category brand leaders. There is a strong leadership team at the helm, and world-class operators with more than 15 years experience in the industry with notable experience at Electronic Arts (NASDAQ: EA), Take-Two Interactive (NASDAQ: TTWO) Vivendi, Flutter Entertainment (LON: FLTR) and others. This is an exceptional market opportunity that capitalizes on the global mega-trend of gaming with esports leading the way … and ESE has a strong focus on the epicentre of this growth – Europe and Asia.
To find out more about everything going on with ESE Entertainment Inc., visit their website – ese.gg.
FULL DISCLOSURE: This is a paid article produced by Stockhouse Publishing.

Please follow and like us: